Read about our latest bug fixes, improvements and new features recently added to Trint.
Release Update - August 4, 2023
Release Update - August 11, 2023
Release Update - August 18, 2023
Release Update - August 25, 2023
Release Update - August 4, 2023
New ✨
New set of icons for mobile app
Trint mobile users will now see the same set of icons aligned to the Trint web app, giving everyone a unified experience across both platforms.
Quick actions for mobile app
Trint mobile users can now press and hold any file card on the home screen for quick actions – share, delete and move – without needing to open the transcript.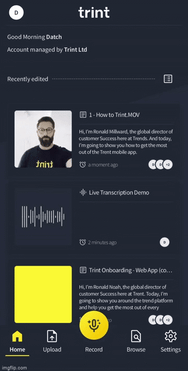 Improved 👩‍💻
SSO upgrade for Trint enterprise users
Any Trint enterprise users that use SSO (single sign on) to log into the Trint mobile app will now have a more reliable experience with less log in errors.
Timecode offset added to Story Builder
Trint users who offset their timecodes will now have them synced between their Story Builder files and the original source media.
Live transcripts saving location
Before beginning recording, Trint users now have the option to choose the ultimate destination for saving live transcriptions.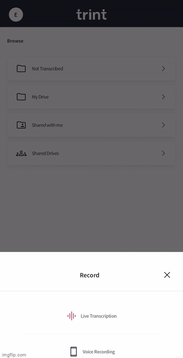 ---
Release Update - August 11, 2023
New ✨
New dashboard launch
We've redesigned the Trint dashboard to maximize your productivity and provide an intuitive experience. The new Trint dashboard comes with a host of improvements to streamline your content creation workflow:
With a more simplified navigation menu and intuitive feature names, the new layout ensures you can find what you need without any hassle.
Invite your team from anywhere in the platform and get collaborating even quicker with our smart new Suggested Activity section.
Improved 👩‍💻
Story Builder layout
Taking on feedback we've received from Trint users, our team have made some smart improvements to Trint's Story Builder:
Title and playback components have moved into the Editor Pane, so users can see all their editing tools in one place.
Sidebar is now allocated to the left side for a more natural workflow.
Added function to close the sidebar view and give more space for the Story file.
Increased the sidebar preview to take up a max width of 45% of the viewport to give users more space to find transcript quotes.
Bugs 🐞
Fixed an issue when editing the title in Story Builder sometimes caused the page to refresh
---
Release Update - August 18, 2023
New ✨
Profile screen for mobile users
Trint mobile users can now visit and edit their profile info by clicking the profile icon in the app.
Improved 👩‍💻
Story Builder transcript preview
Based on our user's requests, we've made it easier to access the transcript text and also control the size of the video in the preview screen.
One status for transcription process
To prevent confusion with the file status, we've updated the status column so Trint users can see only the latest status for the file they work on.

Story Builder buttons updates
"Add to Story" button has been changed for easier accessibility and usage.
---
Release Update - August 25, 2023
New ✨
File browser in StoryBuilder preview panel
To make it simpler to find the quotes and moments that matter, Trint users can now both search for transcripts in Story Builder and also view a file browser to open files from both My Drive and Shared Drives.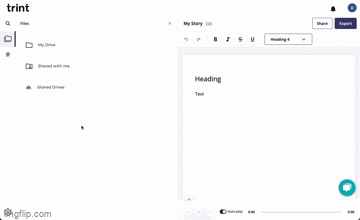 Improved 👩‍💻
Auto-permission for commenting
Trint customers can now mention users without having to manually give them commenting permission. Permission will now be automatically granted and the mentioned user will receive a notification via email – making it easier to collaborate and review content faster.