Updated over a week ago
Release Update - July 29, 2022
Release Update - July 22, 2022
Release Update - July 15, 2022
Release Update - July 29, 2022
Improved 👩‍🔬
Improvement to upload speed times
We've improved our upload speed times to ensure you can get to work must faster. What does this mean in numbers? 95% of our customers now experience a waiting time of less than 300ms when uploading files. Huzzah!
Release Update - July 22, 2022
Global search improvements
Last week we brought you a brand new UI, this week we bring you even more goodies. Clicking on a search result in Global Search now takes you to a highlight preview of the search result within the Transcript (or Caption!) This helps you get to the right moments as smoothly and quickly as possible.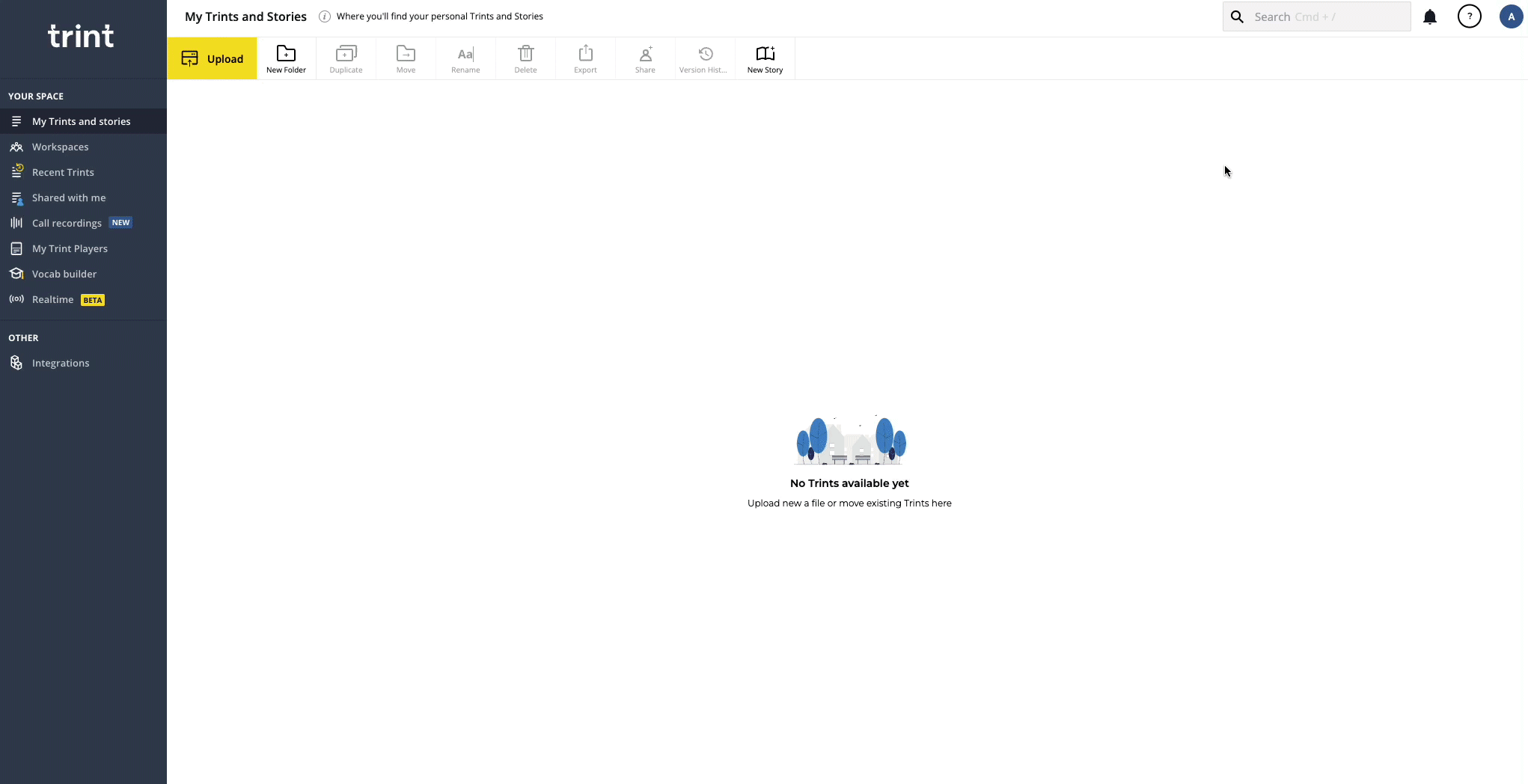 Release Update - July 15, 2022
New ✨
VocabBuilder now available in the API
Our VocabBuilder feature is now available for all API users. With this, the ability to teach Trint new words and spellings in conversations makes transcription a breeze. You can find updates API documentation here.
New Search UI
Searching for files has never been easier! Our new global search UI allows you to search and filter by specific types of content - Clips, Trints, Stories and Captions.

Inviting users is now easier
Get your team onto Trint in a flash! You can now invite your colleagues to join by clicking on the new 'Invite team' button from the homepage.
Improved 👩‍🔬
New design for plan management
We've made managing your plan that much easier. The new plan management UI makes it easier to update your plan as needed, with no added friction.
Support and onboarding updates
Our support bot has been updated to more accurate help our customers in need, allowing us to better triage issues for you!
Likewise, our onboarding flows have been updated to better match with our branding and style.
Release Update - July 8, 2022
Improved 👩‍🔬
Advanced search operators
We've added advanced search operators to ensure you're able to find everything you need!
New operators include:
Enable speaker detection (mobile app beta)
Users on our mobile app beta can now enable and disable speaker detection before uploading a file for transcription. This allows you to process and detect conversations with more precision.
Minor design improvements
Because little wins should be celebrated too. Buttons on the invite modal have been updated and given a bit of pizzaz to make it that much more delightful when you invite someone to join your team.
Release Update - July 4, 2022
New ✨
Trint is now available in French and German!
From today, Trint is now available to be used in French and German. You can change your interface language by going to the settings panel and selecting from English (US), French (FR) and German. Please be aware that this option is currently in beta.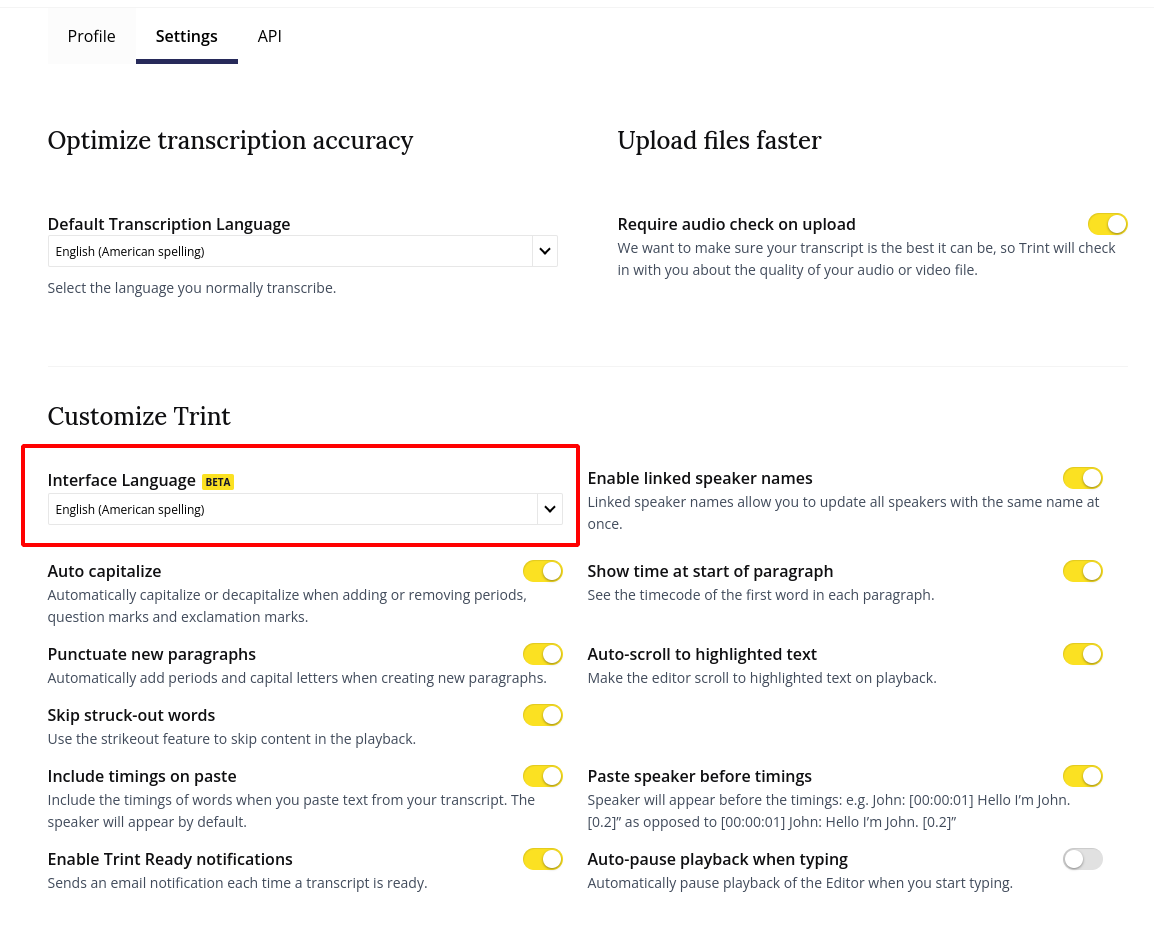 A/B testing at Trint
At Trint we believe that experimenting and learning quickly allows us to bring you the best solutions. Our new A/B testing set up will allow us to bring you new features to market faster as we test their success and work based on your feedback.
Improved 👩‍🔬
Deployment improvements
Continuous stability and speed improvements to our deployment process, which helps us get you updates, new features, and bug fixes that much faster.
Improved billing breakdown
Managing your account just got easier. When updating plans, adding, or removing users, the billing breakdown makes it clear what the changes are to your account in one single checkout flow.
Extended file management (mobile beta only)
Users on our mobile beta app can now select the folders where files can be saved when on the Upload file screen, providing support beyond global saving. This provides extended management, and means you can choose if all files are saved to the same folder, or on different folders as needed.
Select different language for files (mobile beta only)
Users on our mobile beta app can now select the language of each file being uploaded for transcription. This selection will not affect all files globally, enabling you to transcribe in multiple languages.
Bugs 🐞
When a user is removed from a group, their files are now transferred over to the organisation admin.