Read about our latest bug fixes, improvements and new features recently added to Trint.
Updated this week
Release Update - April 7, 2023
Release Update - April 21, 2023
Release Update - April 7, 2023
Improved 👩‍🔬

Mobile app force upgrade
To make sure Trint users always benefit from updates or patches we make to our mobile app, users will now receive a notification when it's time to update.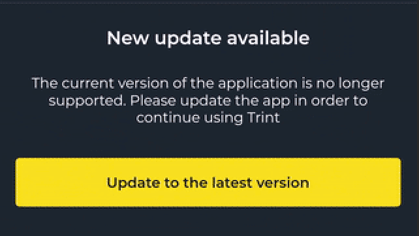 Release Update - April 21, 2023
New ✨

Mobile Live launches for Trint enterprise plans
With the Trint mobile app installed for iOS or Android, a Trint user out in the field can capture audio from their phone and transcribe it live in more than 30 languages. Then share the transcription feed to colleagues in another room, office or country to collaborate securely in real time on the Trint web app.

Read our Mobile Live article for more information.

Workspace banner on the Trint web app
To help Advanced and Enterprise plan users work more securely, we have added reminders to the Trint web app home screen to create Workspaces. These are secure folders to help organize files within a team and share transcripts as soon as they are uploaded.

This includes Mobile Live transcriptions, which can be instantly accessed by everyone in a Workspace once the recording has started.



Improved 👩‍🔬
Realtime Trints added to Workspaces
Realtime Trints can now be created in a specific Workspace or Workspace folder when created through our API. This helps increase the security of these Realtime Trints and makes sure any existing Realtime Trints can appear in search results.
Component upgrade to Trint Editor
We have upgraded the plugin system in all our Editors to increase the level of type safety and help reduce the risk of bugs.
Bugs 🐞
Fixed a bug where some Trint files were clickable in the file list during transcription, leading users to see an error page.