How to manage team members, Shared Drives and monitor usage
Updated over a week ago
Admins of an Enterprise account can easily manage team members on Trint and their plan though the Admin Dashboard. This guide will explain the different sections of this dashboard and what they allow admins to do.
This support guide will cover:
Where to find the Admin Dashboard
If you are the admin of an Enterprise account, you will find the "Admin Dashboard" as a category option in the "Your Space" menu.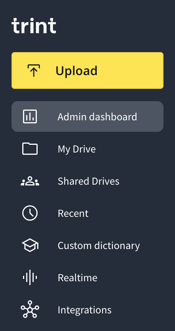 From here you can select different tabs to manage your organization's Trint usage, add and remove team members, monitor usage and activity and manage Shared Drives.

Usage tab
This is where you can view your organization's overall Trint usage – filtering by period or team as required.
Team & Members tab
Here you can view all Trint members in your organization, both in Teams and Unassigned. You can add members, export a list of all members as a CSV file, and create new Teams. You can also remove members from the organization and from a Team.
To add a member:
Click the yellow "Add member button"

Type in the email address of the person you want to add to your team.
The user will get sent an email with a link to join your team.
To remove a member:
Find their name from the list

Check the box to the left of their name

Click on the delete icon in the navigation bar at the top of the page
Users Activity tab
This section provides information on the activity of all members, including uploading files, Live Transcriptions and deleting files. You can filter this by month and export as a CSV file.
Shared Drives tab
Here you can view every Trint Shared Drive in your organization – past and present – with a list of their details. As an admin, you can also archive or restore Shared Drives but pressing the yellow buttons along the right-hand side.
Shared Drive Permissions tab
This tab allows you to view the six default role permissions, as well as create and view your own custom role permissions.
We hope you have found this article useful. If you have any questions, please reach out to us at support@trint.com and our team will be happy to help.
Related support guides: