How to cancel or pause your Trint plan
Updated over a week ago
Trint doesn't lock you in to any long or awkward contracts, and gives you complete control to pause or cancel your plan at any time. This guide will show you how to do both from your Trint account dashboard.
This support guide will cover:
Pausing your plan
If you don't need to use Trint for a while, you can pause your plan for a small fee of 5/month. Just contact us at support@trint.com and let our team know when you would like to put your plan on pause.
Pausing your plan will take away access to your files but keep them safely stored on our servers for as long as you like. When you are ready to reactivate your plan, just contact our team and you will have instant access to all of your files again.
Cancelling your plan
Your Trint plan can be cancelled at any time. This action will close your account and delete all of your Trint files shortly after.
To cancel your plan:
Click the icon in the top right-hand corner with your initials on.

Select "Account" from the dropdown list.

Once you're on the "Account" page, select "Billing" from the ribbon menu.

You will see the three options to update your subscription.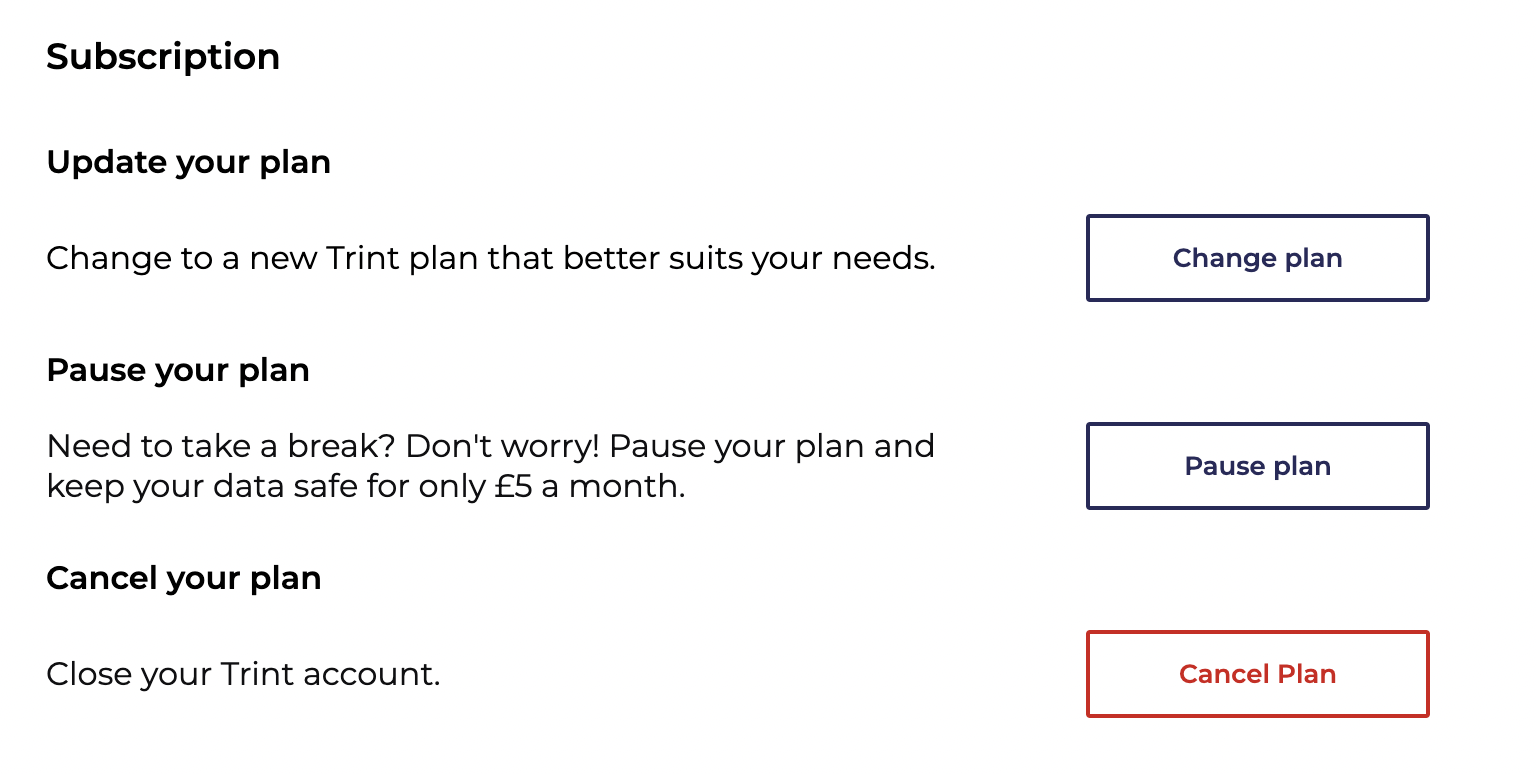 Once complete, you will receive a confirmation email and notification that your plan will cancel at the end of your billing cycle. You will still be able to use Trint and access your files until then.

Exporting your Trints
To avoid losing your Trints after cancelling your plan, we recommend that you export your files before the end of your billing cycle. You can easily do this by:
Logging in to your Trint account

Selecting the files you want to keep

Clicking "Export" in the navigation bar

Choosing your format and download
We hope you have found this article useful. If you have any questions, please reach out to us at support@trint.com and our team will be happy to help.
Related support guides: