How to tag memorable moments in your transcripts
Updated over a week ago
If you want to section out a transcript or save certain points to jump back to in an instant, Trint's clip tool Is your answer. This guide will show you how clips work and how using them can help speed up your content creation.
This support guide will cover:
Ways you can use clips
Clips help you tag quotes and moments that matter in your transcript, allowing you to find them quickly and easily when needed. They can also enable you to:
Signpost key moments for other collaborators in your team to find and use in different content formats

Sort multiple themes within your text that can be easily pulled and reordered into a new narrative

Effortlessly search tags across your back catalog of Trint files to find and repurpose valuable content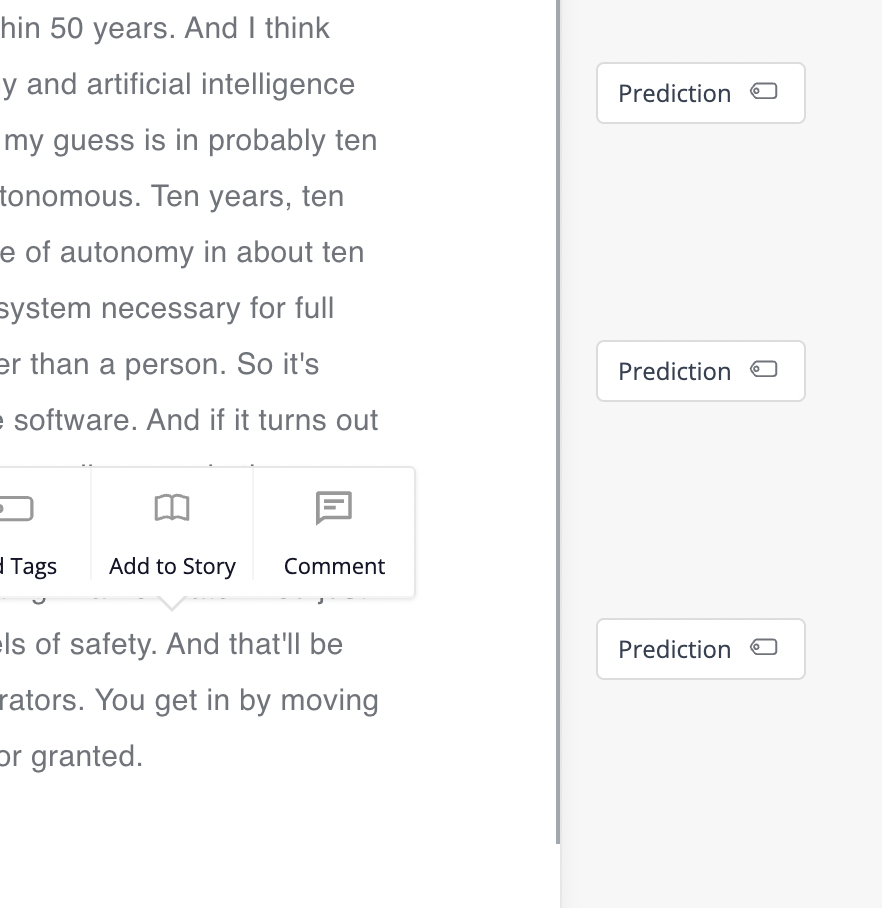 Creating clips
Open the transcript and select the portion of text you would like to clip. Now click the "Create clip" option in the pop-up menu above your selection.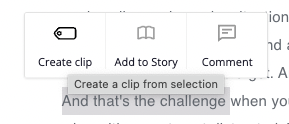 A new window will appear that shows the audio or video you want to clip. Type a name in the text box and press "Save". Now click the "X" in the top corner to close the pop-up window and add your clip to the transcript.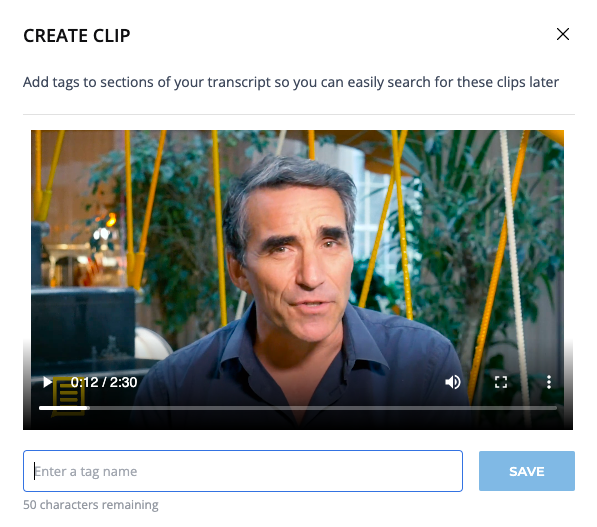 You can also add multiple clips to the same name to help organize key moments within your transcripts.
Once you've added a new clip name it will appear at the bottom of the "Create clip" pop-up window. Just click the name you need and close the window when you're done.
Playing a clip
Once you have saved a clip you can play the audio or video at any time by clicking the clip name along the right-hand side of your transcript.
This will expand the clip to show the audio or video in its own preview window. You can also add more tags to this clip by using the text box and clicking the blue "+" symbol.
How to delete clips
To remove a clip just hover over the clip name on the right side of the screen and a bin icon will appear. Click this icon to delete the clip.
We hope you have found this article useful. If you have any questions, please reach out to us at support@trint.com and our team will be happy to help.
Related support guides: