How pull out key moments from transcripts using highlights
Updated over a week ago
Trint highlights are a great feature that can help you collaborate faster with others and better organize your content. This guide will show you how highlights work and how they can help improve your workflows.
This support guide will cover
Using highlights for content creation
Trint can highlight text in up to five colors, which can help you keep track of memorable moments in transcript and organize your thoughts as you review. Other uses for highlights include:
Distinguishing different speakers by highlighting their text in different colors, allowing you to see how long each person talks for

Sort your transcript according to topics that are talked about, helping section out quotes and start constructing a new narrative (read about Trint's Story feature for more information).

Mark important moments in the transcript and tagging colleagues to get their feedback or opinion.
How to highlight text
Select a portion of your transcript text and click the "Highlight" button in the navigation bar of the Trint Editor, then select the color you want to use. You can also use the keyboard shortcut CTRL + H to quickly highlight in yellow.

Highlights will also appear in the waveform at the bottom of your transcript.

Understanding highlight timecodes
When you highlight text, the timecode of that selection will appear in your transcript above the color highlighted.
You can also see the combined duration of each highlighted color by hovering over "Highlights duration" button at the bottom of your transcript.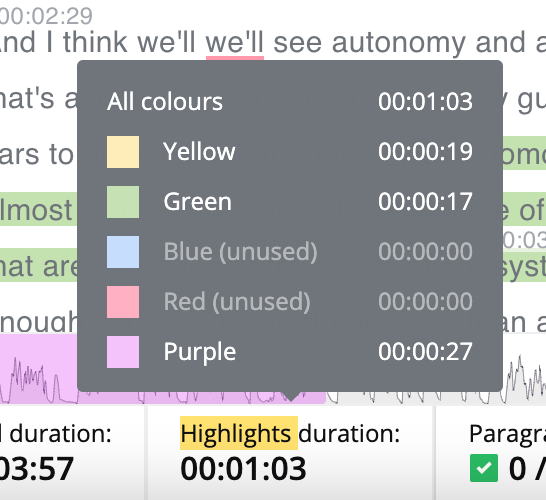 How to remove highlights
Simply select the highlighted text and click on the "Highlight" icon in the navigation bar. You can also select the text and use the keyboard shortcut CTRL + H to remove the highlight.
If you want to remove all highlights from your transcript, click on the dropdown arrow icon beside the "Highlight" button in the navigation bar and then click the "Clear all highlights" option.
We hope you have found this article useful. If you have any questions, please reach out to us at support@trint.com and our team will be happy to help.
Related support guides: