Use the Story Builder to combine multiple transcripts together into a new narrative
Trint's Story Builder makes it even easier to handpick key moments from one or multiple transcripts and effortlessly craft them into a new narrative. This guide will explore the new Story interface and show you how it helps you create powerful content.
This support guide will cover:
---
Creating a Story
First go to the Trint dashboard and click the New Story button in the navigation bar. You will now see our new Story interface, which has been designed to help you easily work between transcripts and your Story without needing multiple tabs on your browser. As before, you can rename the file by clicking Edit at the top of the page.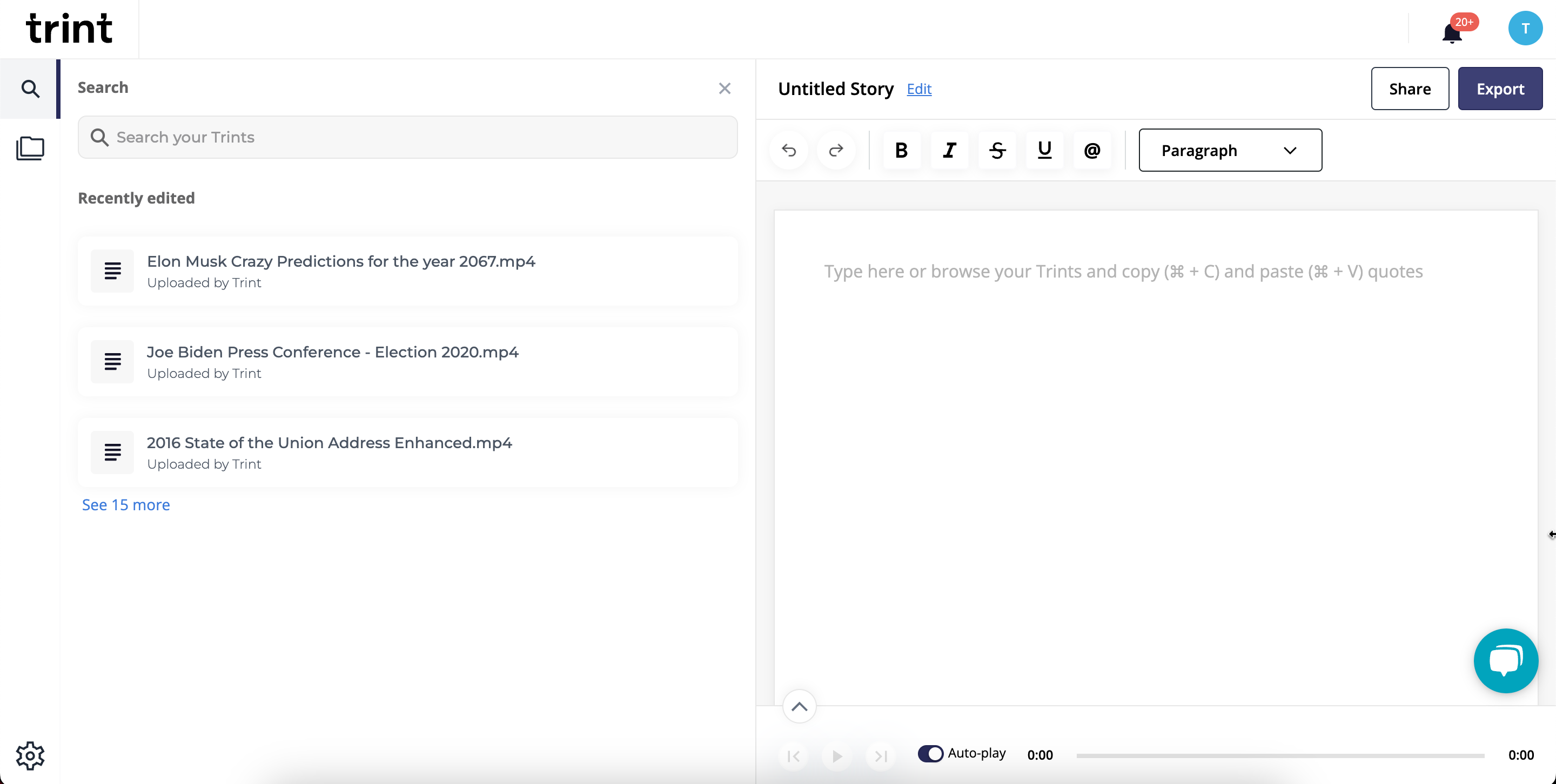 Editorial tools
Trint's new Story Builder offers more dynamic editorial tools to help you turn key moments from your transcripts into powerful content - all without leaving the Trint platform.
Any text you add to your Story can be formatted into different headings and styles such as bold, italics and underlined, much like other text document editors. This makes it easy to build an article around your quotes or add notes for a script or podcast outline.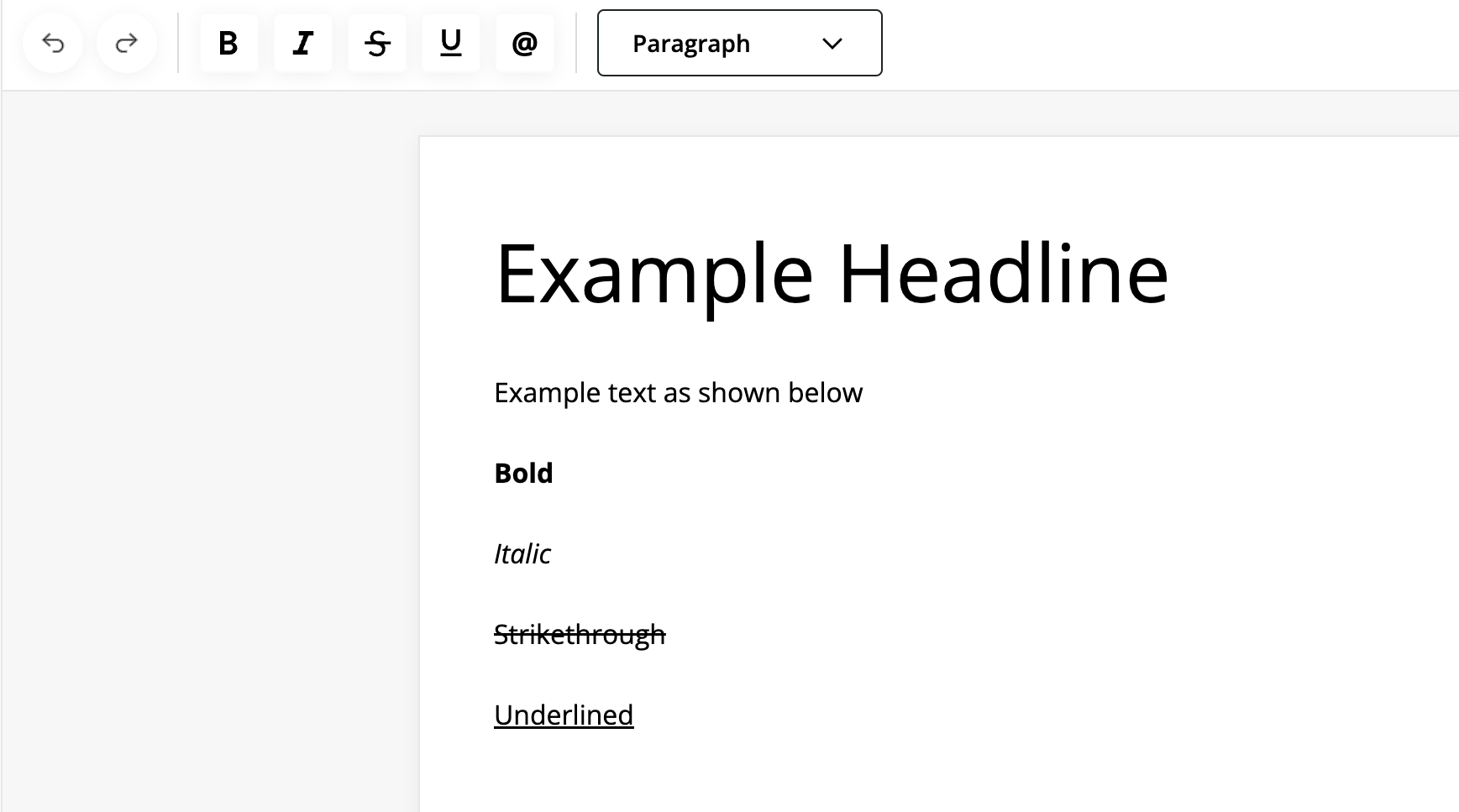 Adding quotes
To add quotes, you can now search for any transcript from your Trint library using the panel on the right-hand side.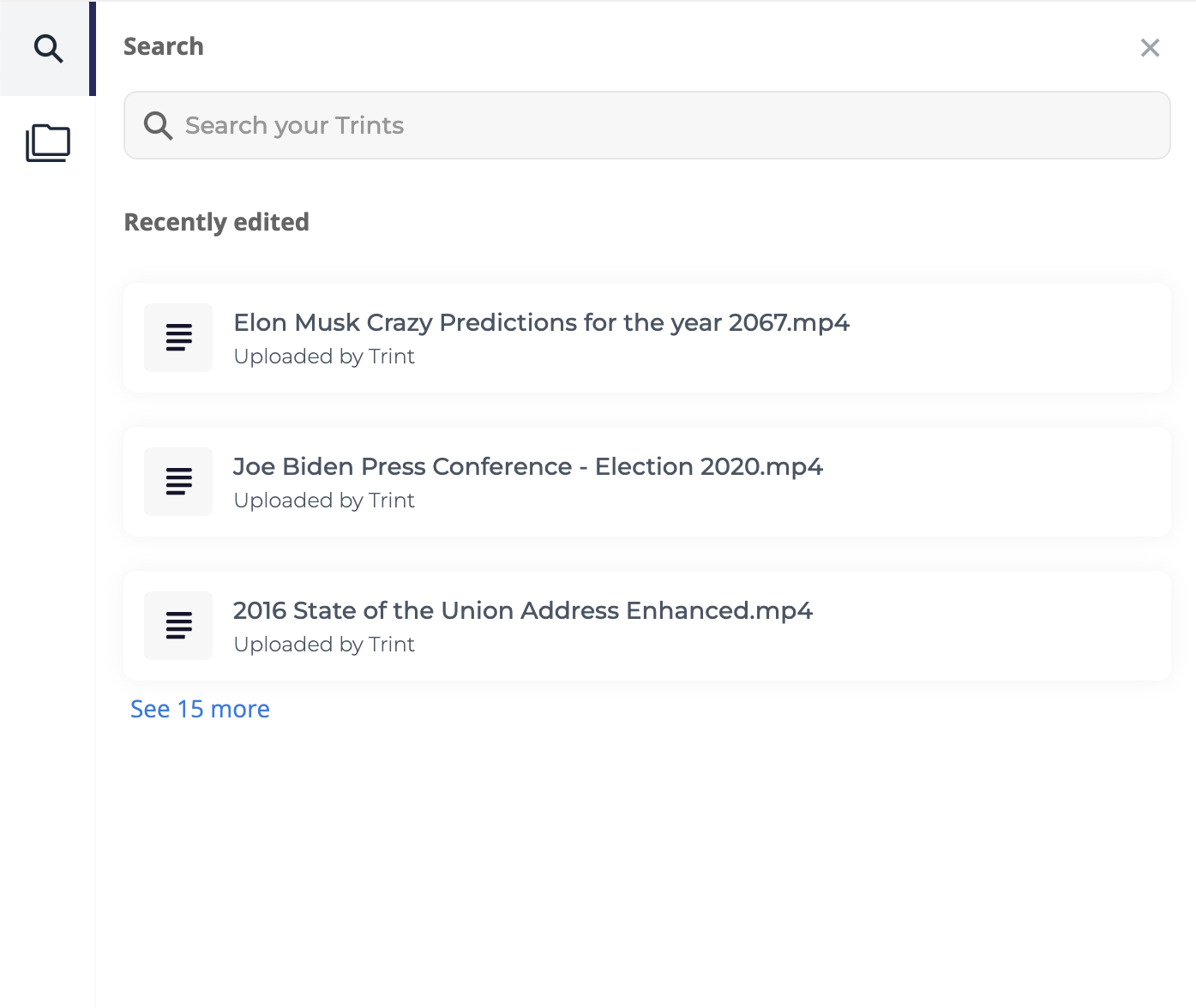 Once you've found the Trint that you want to draw quotes from, click on it and you'll see a simplified version of the transcript with any highlights included and a preview window to play back the original video or audio file. You also can hide the preview of the video or audio file.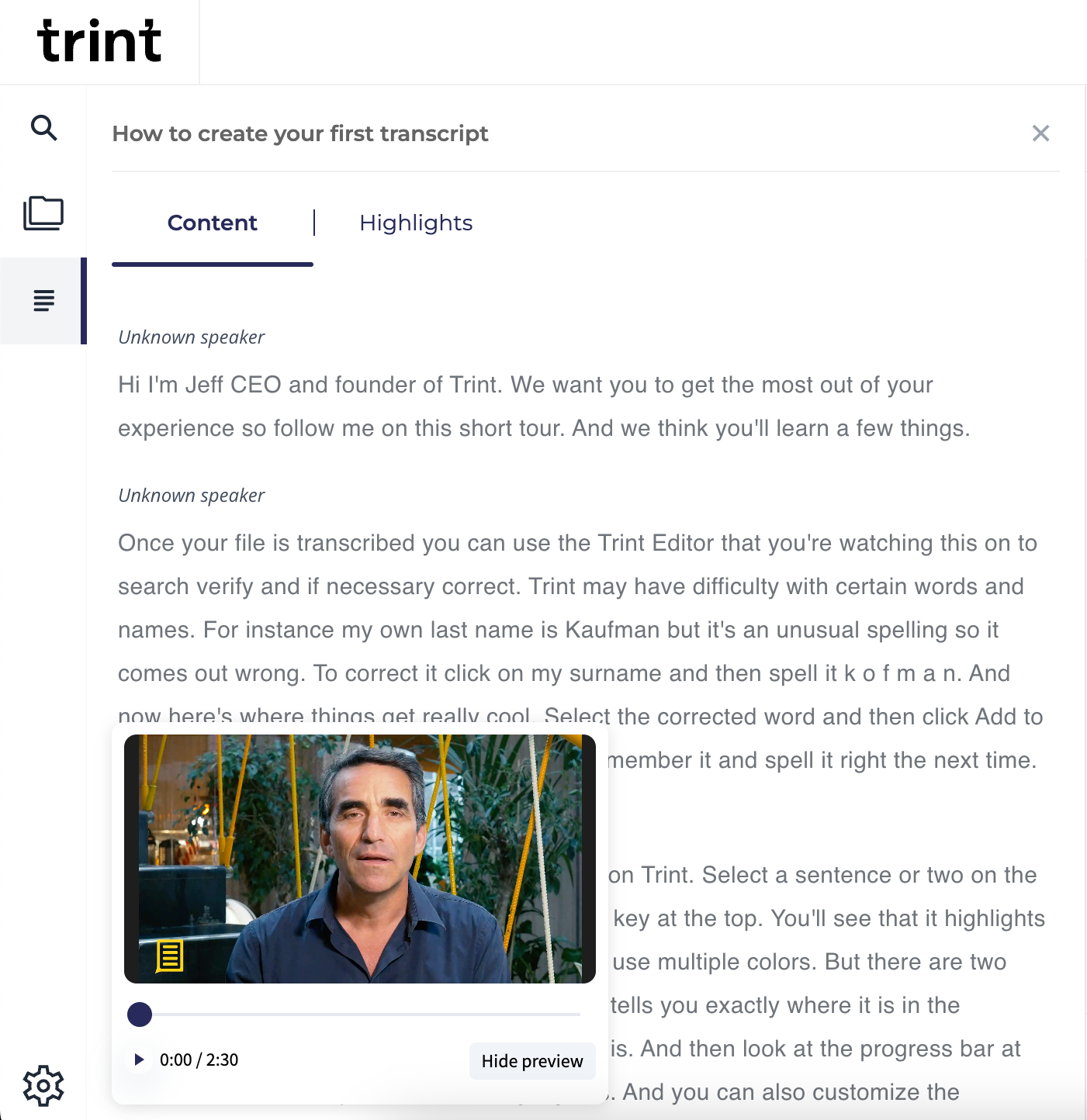 Find the quote you want to add to your Story, then copy and paste the text into the Story Builder on the left or click the Add selection to Story button below. If you've already highlighted the quotes you need, you can add them easily by choosing the Highlights tab.
Repeat this process for every transcript you want to draw quotes from - helping you effortlessly combine key moments from multiple audio/video files with headings and text to make a powerful new narrative.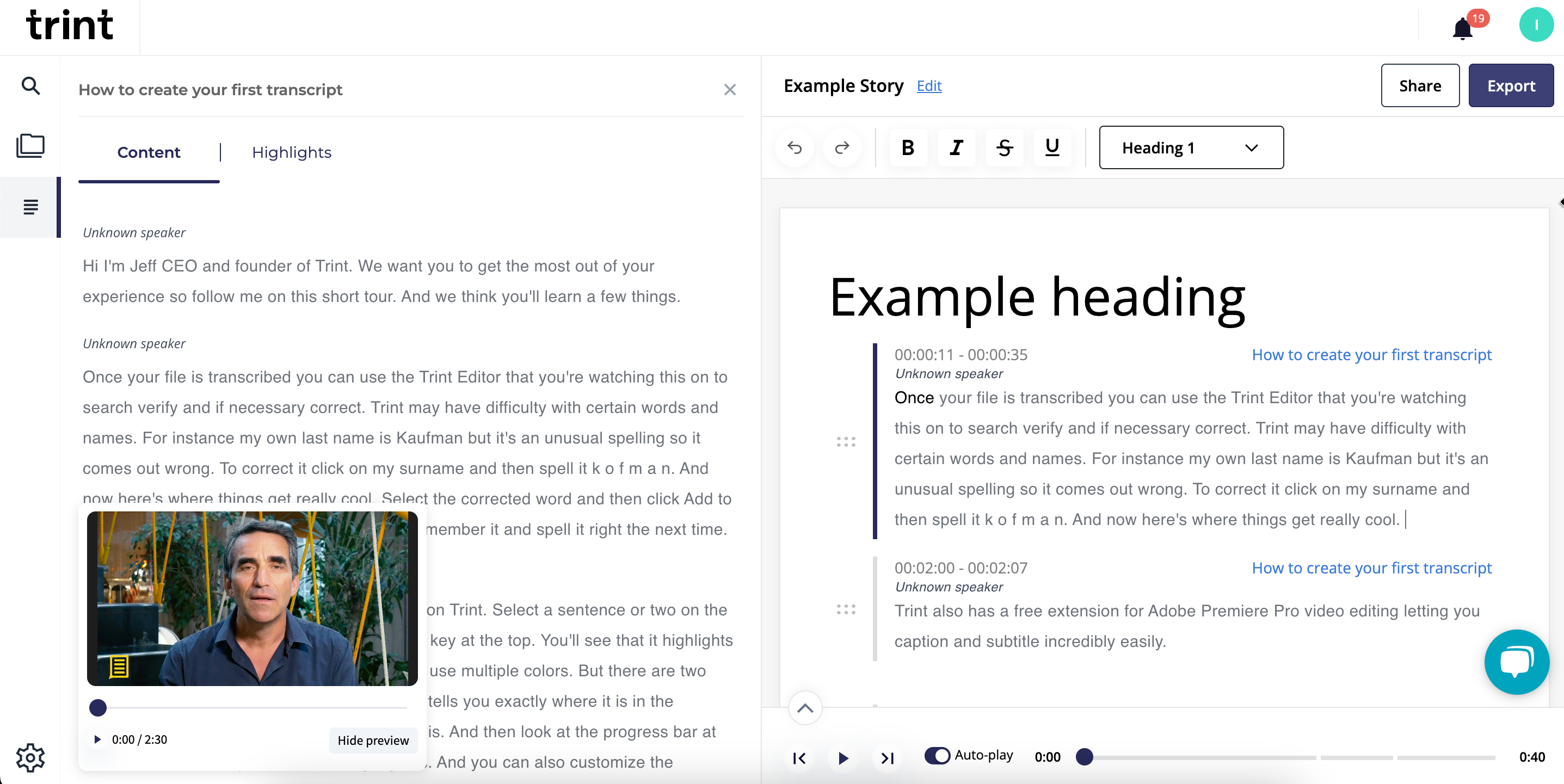 Editing quotes
Every quote that's added to a Story can be easily rearranged around your other quotes, headings and text with a simple drag and drop.
Above each quote you will see the timecode from the source transcript indicating the start and end of the text. If you want to open the original file or delete the quote, just click on the icon to the left.

If you need to shorten a quote, you can edit it directly in the Story without needing to delete and re-add the quote from the transcript. This will also shorten the audio/video file to keep your playback in sync.


If you need to edit or remove the middle text from a quote, you can again do this without needing to go back to the transcript. Just press the Return key in the place you want to cut and Story Builder will turn it into two quotes with separate timecodes.

At the very bottom of the screen you will see thumbnails for every quote you have added to the Story and the total duration of the combined audio or video. You can playback this at any time to hear your new narrative come together - a great feature for creating podcasts or video outlines.

Story FAQs
How do I delete a text block?
You can delete any text using the Backspace or Delete keys, or you can delete an entire quote by pressing the icon on the left and deleting it.
When you're ready to export, click the button at the top then choose from a range of format options. This includes Docx for article drafts and EDL or XML for podcast or video rough cuts, providing your editor with precise timecodes of every quote selection to make creating a final cut that much easier. If you would like other file formats, let us know at support@trint.com.
Can I collaborate on a Story with colleagues?
Yes. Just click the Share button at the top and invite colleagues to edit, comment or view your Story file – with different permissions depending on how much access they need.

If there is a part of your Story that you want to assign to a colleague or ask them for feedback, you can @mention them by either pressing the button in the toolbar or typing the @ symbol within the Story, followed by their name.
Can I make a Story from a Live Transcription?
That feature is not available at the moment. Once the Live Transcription is completed, you can add the final transcript to a Story file.
If I accidentally delete a section of the story, can I recover it?
You can undo actions using Ctrl + Z (Cmd + Z on a Mac) or pressing the "Undo" arrow in the top left corner of the document.
Yes, this is now possible. Tick the box next to the story you wish to duplicate and click the Duplicate button on the ribbon menu on top of the file list.
---
We hope you have found this article useful. If you have any questions, please reach out to us at support@trint.com and our team will be happy to help.
Related support guides: