How to listen to your audio and follow the text
Updated over a week ago
Once your audio or video file is transcribed, it's important to review your transcript to check everything is accurate. This guide will show you how to play back recordings and read along with the text on screen.
This support guide will cover:
Playback in the Trint Editor
When you open a Trint you will see a video preview screen in the bottom left corner to the side of your transcript. If you press the "Play" button in the bottom corner, your uploaded audio will be read aloud and the transcript text will darken as each word is spoken so that you can easily follow along.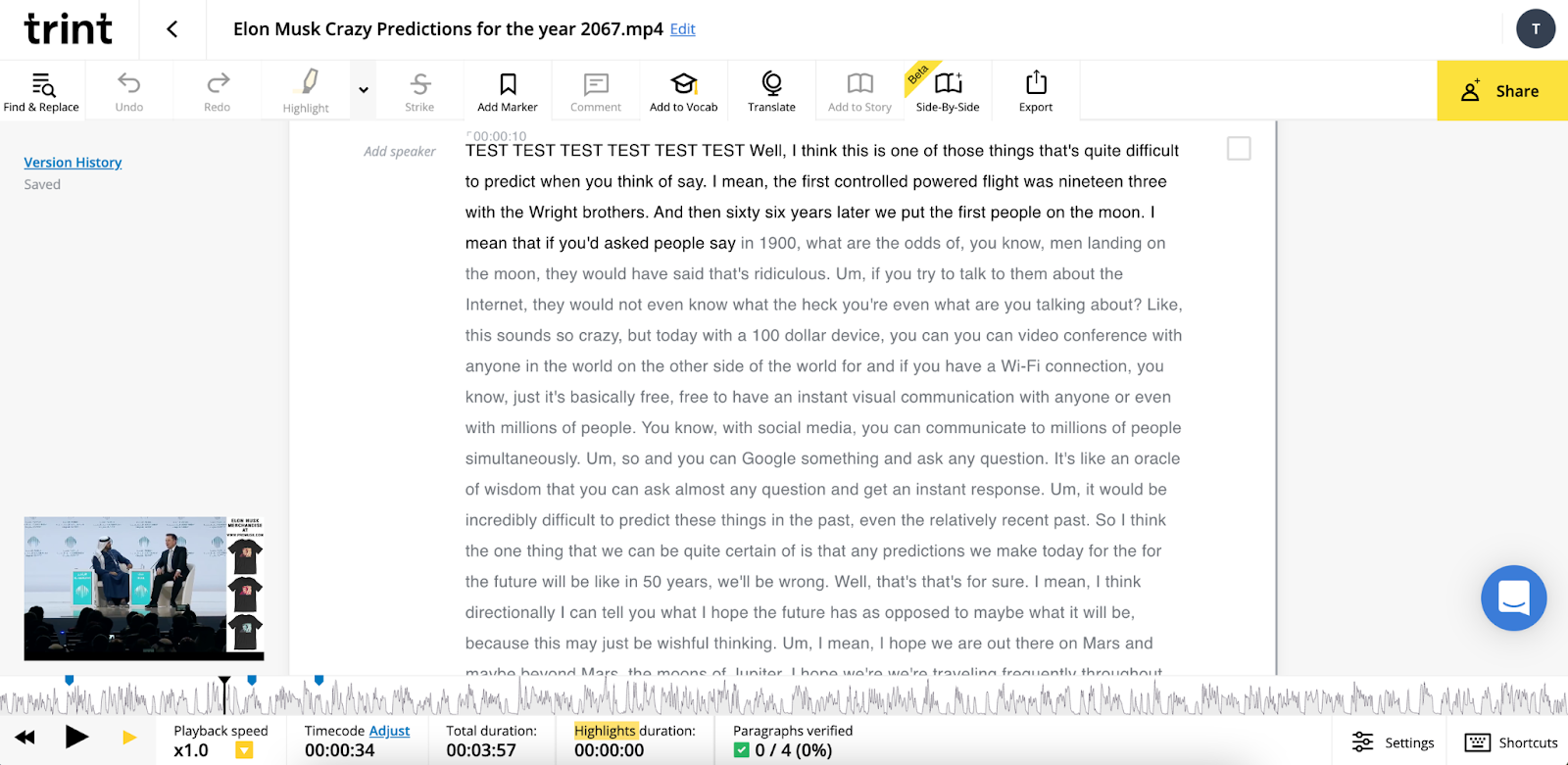 To skip ahead or back in the audio/video, just click anywhere in the transcript, in the text or on the waveform bar at the bottom of the screen.

The audio or video will automatically stop playing when you type. If you'd like it to continue playing then click on "Settings" in the bottom right and toggle off "Auto-pause playback when typing".
Playback controls
The audio or video playback is controlled by the waveform bar. Here you can start, stop, rewind and also change the playback speed by using the tools pictured below.

If you have highlighted sections and just want to hear those read aloud, you can press the small yellow play button next to the main button.
Playback for captions and Story files
Like the Trint Editor, you can playback your audio or video in the Caption Editor and Trint's Story feature.

During playback the section of being spoken will all darken at the same time rather than word-by-word, and the colored bar to the side will also highlight to help you follow along. Playback speed cannot be changed for change for caption or Story files.
---
We hope you have found this article useful. If you have any questions, please reach out to us at support@trint.com and our team will be happy to help.
Related support guides: