How to identify speakers in your transcripts
Updated over a week ago
With clear audio, Trint can detect when there is a change in who's speaking and automatically start a new paragraph in the transcription. This guide will help you use this feature and troubleshoot if Speaker Detection isn't working.
This support guide will cover:
Adding speaker names
To let Trint know who is talking in your transcript, click on the italicized text to the left of a paragraph titled either "Add speaker" or "Speaker 1/2/etc" (depending on how many speakers Trint detects).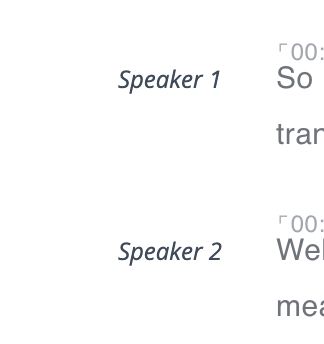 You can now replace this text with a new name. When you hit enter, the other fields below where that speaker is detected will automatically change to the same name.
If multiple people are talking over each other or their voices are similar, Trint may not recognize the speaker change.
Simply click in the transcript where the speaker change is needed and press enter to add a paragraph and separate them. This will create a box that says "Add speaker", which you can change to indicate who is speaking.
Removing paragraphs and speakers
You can remove paragraphs by pressing the backspace key at the start of the paragraph.
If you would like to delete a speaker name, hover over the name in the transcript and a red cross will appear.

Clicking this will delete the text in that box. Trint also saves names in a speaker list so it's easier to add speakers. You cannot remove names from the speaker list once they have been added.
Speaker Detection not working
If your transcript text is appearing as one long paragraph, this might be because the Speaker Detection box was not checked when you uploaded the file. Try re-uploading the file and make sure "Detect speaker change" is ticked. You can only apply speaker detection when you first transcribe a file.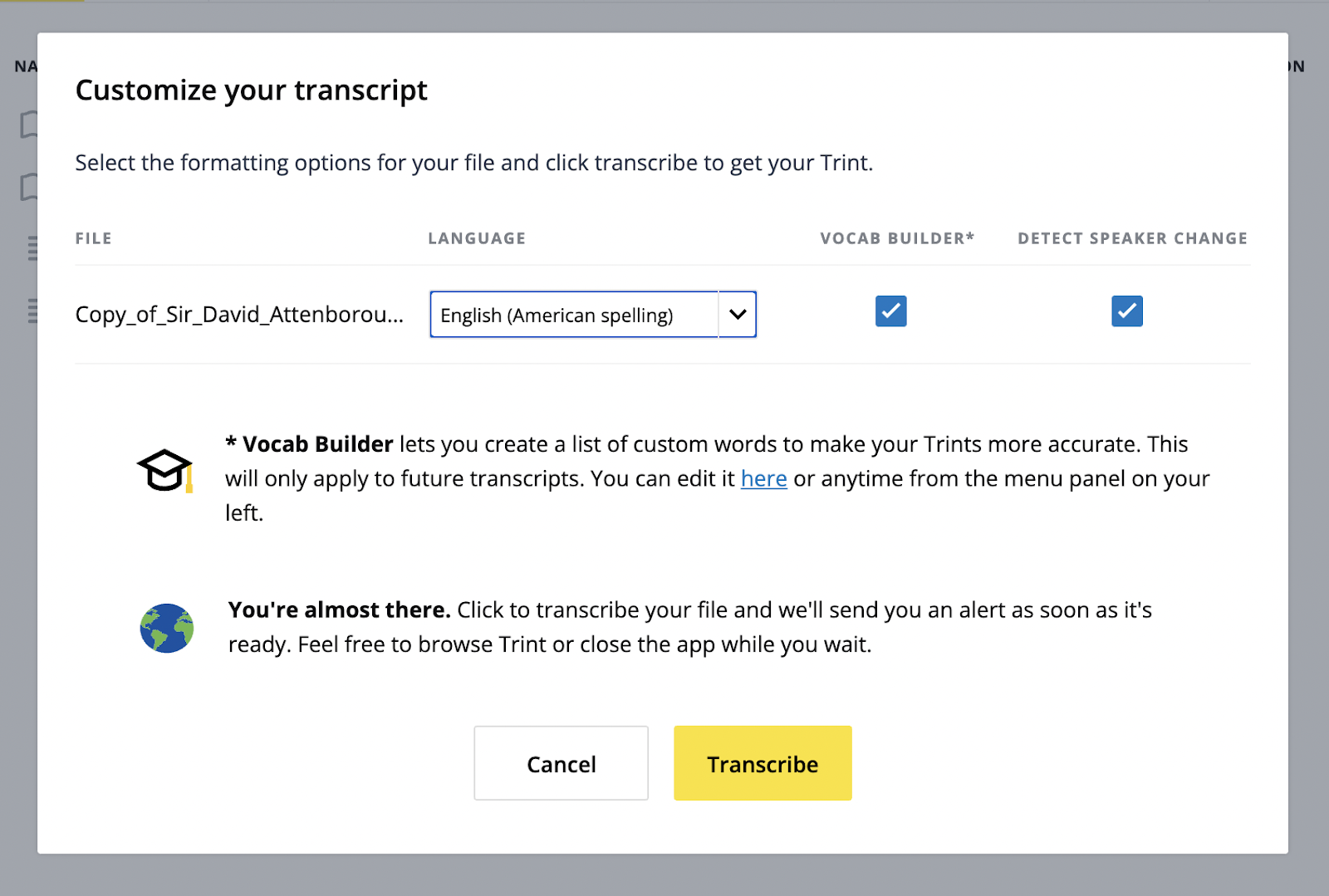 If a file was transcribed with Speaker Detection but Trint is not detecting the changes, this is likely due to the file's audio quality.
You can manually add names still by creating new paragraphs wherever they are speaker changes and changing the italicized text labelled "Add Speaker". This will only affect that one paragraph and won't auto-populate the rest of the speaker entries.
We hope you have found this article useful. If you have any questions, please reach out to us at support@trint.com and our team will be happy to help.
Related support guides: