How to upload an audio or video file and create a transcript.
Updated over a week ago
How to transcribe an audio or video file in Trint
Turning audio and video files into text is simple and fast thanks to Trint's superpowered AI. This guide will show you what steps to take to create an accurate transcript in minutes.
This support guide will cover:
When you log in to your Trint account you'll arrive on the My Drive tab of the Trint dashboard. This is the main place where all your uploaded files are accessible. To transcribe something new, click on the yellow button in the top left of the navigation bar.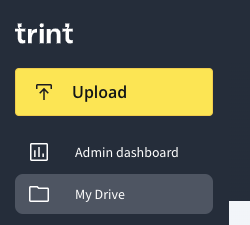 Checking your audio quality
To help Trint's AI create the most accurate transcript from your file, you will be asked to confirm that the audio is clean and clear. This won't prevent you from uploading but some issues such as background noise, distant microphones and recorded telephone calls can lead to a poor transcription result.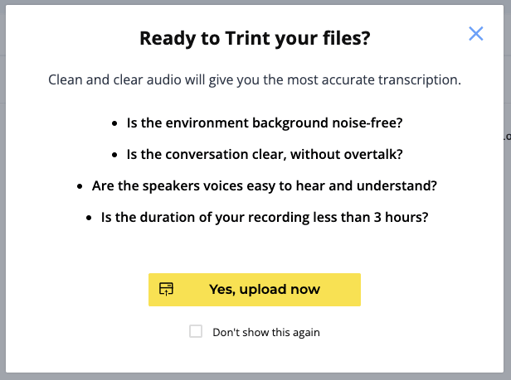 Accepted file formats
The next pop-up window will allow you to drag and drop audio or video files from your computer to be transcribed. You can also select them from cloud accounts such as Dropbox and Google Drive. Files must be one of the following formats:
Audio: MP3, M4A, MP4, AAC and WAV
Video: MP4, WMA, MOV and AVI
If you uploading one of mentioned format but getting the error about incorrect media type - we recommend you to convert file to another format and re-upload it again.
Once you've chosen your files, click the blue button in the bottom right to start the upload process. Make sure not to close Trint or shut down your computer during the upload.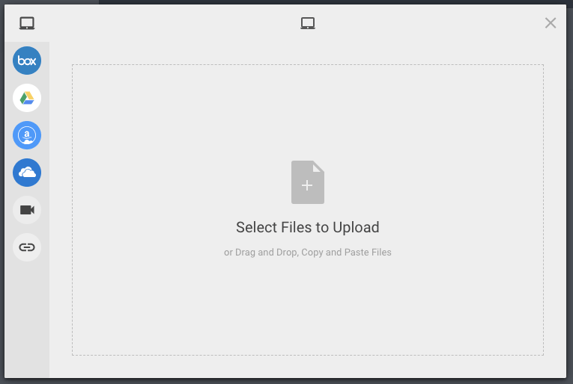 Please pay attention, uploading from link is not available at that moment.
Customizing your transcript
Then select the language spoken in file to help Trint's AI provide a faster transcription. We also recommend you enable custom dictionary and speaker detection to improve the accuracy of your transcript.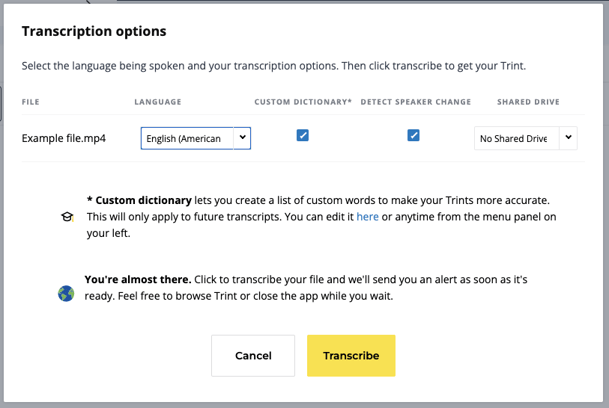 Finding your transcription
After you click the yellow "Transcribe" button, Trint's super-powered AI will get to work transcribing your file. You will receive an email notification once it's ready so feel free to close Trint or shut down your computer.
While Trint's AI works very fast, files can take up to the original audio or video duration to create an accurate text version. Once this process is complete, the file's status will be marked as "Not Edited". Just click on this to open the Trint and start reviewing.
---
We hope you have found this article useful. If you have any questions, please reach out to us at support@trint.com and our Customer Success Team will be happy to help.
Related support guides: