How to create a custom dictionary to increase the accuracy of transcripts
Updated over a week ago
Trint's AI may have difficulty transcribing certain words and names if the speaker has a strong accent or it's an unusual spelling. Our custom dictionary allows you to create a custom list of up to 100 words that Trint will remember and help improve the accuracy of your transcripts.
This support guide will cover:
Adding words to your custom dictionary
If you spot a word that isn't right, first amend the text so that the transcript is accurate (editing text to be longer or shorter will not change its timecode). Now select the amended word and click "Add to dictionary" in the navigation bar.

Please note that words added to custom dictionary will appear in files transcribed after they were added. If an amended word or phrase comes up regularly in a transcript either use the find and replace tool or try re-transcribing the file.
Managing your custom words
To review your added words, click on the "custom dictionary" tab on the left-hand navigation bar of your Trint dashboard.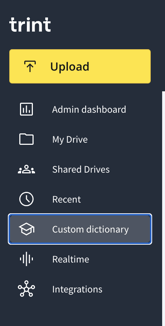 On this page you'll be able to see your list of words with every line representing an entry in your custom dictionary.
You can add or remove words by editing the text and see how many entries you've got by checking the number at the top right of the text box.
How to transcribe using custom words
Once you have added words to your custom dictionary, you need to tell Trint's AI to use this list when transcribing new files. Just tick the "custom dictionary" option when uploading an audio or video file before you click transcribe.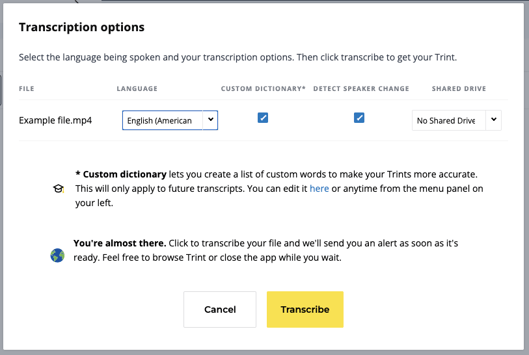 Custom dictionary FAQs
What languages is custom dictionary available in?
Custom dictionary is available for all languages supported by Trint.
Is custom dictionary available on the mobile app and the Adobe Premiere plugin?
Yes.
Can I share custom dictionary entries?
Currently, this is not possible. Each user has their own custom dictionary which is specific to their account.
Can I have two words in one entry?
Yes. Each custom dictionary entry can contain multiple words, which is especially helpful for names. For example, if you want to add "Quercus Robur", simply type it all on the same line in your custom dictionary and it will count as one entry and be recognised by Trint's AI as a single term.
Why can't I check the custom dictionary box in the upload window?
This happens when you don't have a custom dictionary list created yet. You'll just have to create a list and then re-upload the file for custom dictionary to apply.
Why are my custom words not transcribing accurately?
Usually, this is due to poor audio quality in your uploaded file. We've found that several different factors can lead to poor transcription results, see our tips on increasing accuracy.
Are there any words I can't add to custom dictionary?
Avoid special characters and acronyms such as &, !, @, and NATO
Custom dictionary also only works for full words. For example, you could add mangé but not é on its own.
We hope you have found this article useful. If you have any questions, please reach out to us at support@trint.com and our team will be happy to help.
Related support guides